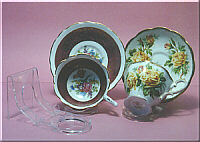 Are you a retailer or distributor?
Your customers can show their delicate china plates, exquisite crystal, fine silver or special souvenir in their own homes.
Our sturdy clear acrylic stands and hangers, while almost invisible, will safely hold those precious pieces they prize.
We have no imitators - What makes this product 'stand-up' is that only your collectible is on display. Our product is non abrasive and puts no pressure on your valuables, as metal or wood holders do.
Available to retail outlets for resale to the public, with barcoding for easier sale.

What our customers have to say!
"Thank you so much! I absolutely love the display units I purchased from you. Take a look how pretty my new china looks on them!! I am so pleased, I will definitely recommend you to all of my friends!" – Sincerely, Julie Pariti